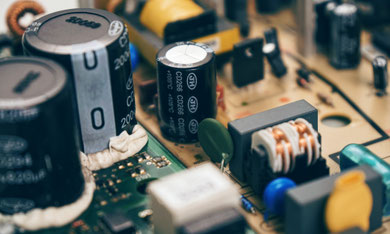 The European Union has passed the delegated Directive 2015/863 (sometimes also referred as RoHS 3), amending the annex II of Directive 2011/65/EU (also called RoHS recast) and adding 4 phthalates to the restricted substances list: BBP, DBP, DEHP and DIBP. 
Substance
CAS #
 Threshold

(by weight in homogeneous materials) 

Benzyl butyl phthalate (BBP)
85-68-7
0.1 %
Dibutyl phthalate (DBP)
84-74-2
0.1 %
Bis(2-ethylhexyl) phthalate (DEHP)
117-81-7
0.1 %
Diisobutyl phthalate (DIBP)
84-69-5
0.1 %
As of July 22nd, 2019, the phthalates restriction applies at the homogeneous material level of electrical and electronic equipment.  Nevertheless, products categories 8 (medical devices) and 9 (monitoring and control instruments) are exempted until July 22nd, 2021.
Phthalates are typically used as plasticizers and may be found in adhesives, inks, coatings, cables, polymer foils, PVC compounds, rubber etc.  Phthalates are especially present in electronic and electrical equipment, optical products, machinery and transport equipment.
According to the European REACH regulation, these 4 phthalates are also considered Substances of Very High Concern (SVHC).
As a result, the RoHS list now includes 10 substances in total.  7 other types of substances are currently under investigation and consultation for their potential inclusion to EU RoHS list of restricted substances in the coming years.
Should you have any questions, don't hesitate to contact us.
---
En votant la directive déléguée 2015/863 (parfois aussi appelée RoHS 3), l'Union Européenne a récemment modifié l'annexe II de la directive 2011/65/UE (RoHS 2) en ajoutant aux substance soumises à limitations 4 phtalates: les DEHP, BBP, DBP et DIBP.

Substance
No. de CAS

Seuil

(en poids dans les matériaux homogènes) 

Phtalate de bis(2-éthylhexyle) (DEHP)
117-81-7
0.1 %
Phtalate de benzyle et de butyle (BBP)
85-68-7
0.1 %
Phtalate de dibutyle (DBP)
84-74-2
0.1 %
Phtalate de diisobutyle (DIBP)
84-69-5
0.1 %
Ces phtalates sont aussi des substances extrêmement préoccupantes (SVHC), selon la réglementation REACH.
Les restrictions de ces phtalates dans les matériaux homogènes des équipements électriques et électroniques (EEE) s'appliquent à partir du 22 juillet 2019. Toutefois, les catégories de produits 8 (dispositifs médicaux) et 9 (instruments de contrôle et de surveillance) sont exemptés jusqu'au 22 juillet 2021.
Les phtalates sont couramment utilisés comme agents plastifiants.
Veuillez nous contacter pour de plus amples informations.